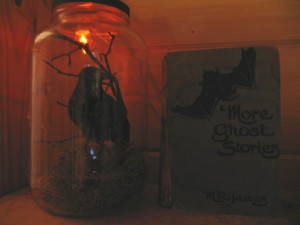 Inexpensive Halloween crafts are really easy to make using things you have around the house and additional items that can be purchased for very little cash. i got this idea from Country Living magazine and I really love it. This crow in a jar makes a great Halloween decoration and is so easy to make. It looks great if you back light it with a flickering bulb and pair it up with a Halloween book or something like that.
Materials:
1 extra large size jar
moss
a crow (I purchased mine at the Dollar Store)
a twig
black spray paint (I use the cheapest flat paint from Wal Mart that only costs about a dollar.

Step 1.
Put some moss in the bottom of the large jar.
Step 2.
Spray paint the lid and the twig with black paint.  Put the twig in the jar.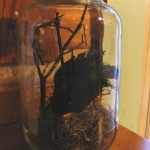 Step 3.
Put the crow in the jar. You can add some acorns, leaves, spiders or anything else you want.  I back lit my jar with one of those flickering bulbs that I just sat behind the jar and put an old ghost story book beside it.