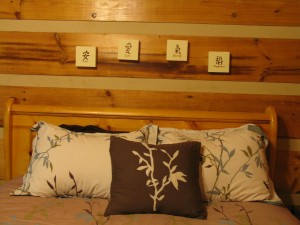 I recently bought a new bed set for my bedroom and I wanted to make some decorative pillows because I was too cheap to buy the ready made ones.  This is a very easy thing to do and can be made to match almost any bed set pattern.
Material:
1 yard of solid color fabric that coordinates with your bed set.
1/2 yd of felt
1 yard of contrast fabric for back of pillow
zipper or velcro to fit one end of pillow
fusing fabric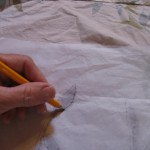 Step 1.
Place a piece of tissue paper over your bed cover on top of the pattern you want to copy. Trace the pattern with a pencil.  You will need to place it on a hard surface to do this.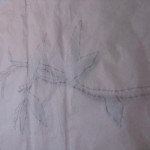 Step 2.
After you finish tracing your pattern pin the tissue paper to your piece of felt and cut it out.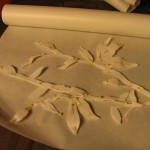 Step 3.
Pin your felt piece to a piece of fusing fabric. Cut it out being careful to follow your pattern.
Step 4.
Peel the backing off your design piece. Cut your solid piece of fabric to fit the front of your pillow.  Place your design piece of felt onto the fabric.  Using a hot iron press it onto the pillow front using the directions that come with the fusing fabric.
Step 5.
Cut a piece of quilt batting the same size as your front piece and pin the pillow front to the quilt batting.  Hand sew around your felt design catching in the quilt batting and going through the solid color pillow front. This will make your design stand out more.
Step 6.
Cut a piece of  your coordinating fabric the same size as the pillow front. Stitch the front and back together leaving one end open for the pillow. I always finish my edges with a zigzag stitch so they don't unravel.  You can close the pillow cover with a zipper or with velcro.  Pin your zipper or velcro into place as shown above and stitch.