Materials:
two table legs
package of candle cups ( these can be purchased at almost any hobby or craft store)
paint and aging varnish
wood glue
small squares of wood ( I purchased some of the little squares that are used to frame out windows and can be purchased at Lowes or Home Depot)
I made these candlesticks from some old table legs and some inexpensive candle cups.  It only took a few minutes to make and can be made from any size table legs.  Bigger legs would make great pillar candle holders.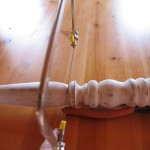 Step 1.
I cut one of my table legs so that I could make two candleholders from it that were different lengths.  I left one of the legs long to make one tall candleholder.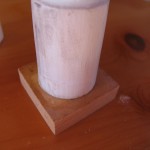 Step 2.
Glue leg onto wooden square with wood glue.

Step 3.
Using wood glue attach candle cup to top of table leg.
Step 4.
Paint the candlesticks and let dry.  If you want to make them look aged lightly sand them to remove a little bit of paint on the edges.  Now take a rag dipped in a dark stain and rub in on the sanded areas.  I usually rub a little all over to give the whole candlestick an overall aged look.