obby Lobb
This Christmas countdown garland is made from felt and is very quick and easy to make. You can buy felt numbers that can be either glued on or some can be ironed on but I cut out my own using adhesive numbers as a pattern. I had some cute wire that has little fluffy "snowballs" on it and used that to anchor the bulbs to my garland but they can be hung directly on your Christmas garland. I like to put all of the bulbs up on December 1st and then take one down each day so the kids can see how many days there are left until Christmas.
Materials:
felt squares in whatever colors you want to use
hot glue or fabric glue
eyelets (optional) These can be purchased at any fabric or craft store
decorative hooks ( I got mine at Hobby Lobby)
Step 1.
Cut out 25 bulbs for the days of Christmas.
Step 2.
I used adhesive numbers as a pattern to cut out my numbers and it worked really well. I used hot glue to attach the numbers to the bulbs but you could hand sew them or use fabric glue. You can also buy pre cut felt letters that are fusible if you prefer.
Step 3.
Poke a hole in the top of each bulb as shown using an eyelet setter or an ice pick.
Step 4.
Push the eyelet through the hole and then place the eyelet tool on top of the eyelet. Use a hammer to pound it down until it is flattened out.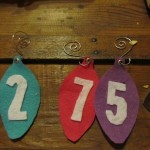 Step 5.
Slip the hooks in and they are ready to hang. I got these cute hooks at Hy and they were 50% off of 1.99 for 25 hooks!