This candy corn can be made as big or as small as you like and it makes a great basket filler, It is very inexpensive and easy to make.
Materials:
a small piece of lightweight canvas
poly stuffing
gold, orange, and off white craft paint
coarse glitter
glue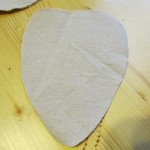 Step 1.
Cut out two pieces for each candy corn.
Step 2.
Stitch around edge using a quarter inch seam allowance. Leave an opening at the top and use it to turn to outside.
Step 3.
Paint the orange strip first in the middle. After it dries paint the gold stripe on the top.  After that dries paint the cream color on the bottom.
Step 4.
If you want the candy corn to have an antique look put some brown paint on a stencil brush. Take some of the paint off by dabbing it on a paper plate repeatedly. When some of the paint is off brush the candy corn lightly with the brush as shown.
Step 5.
Fill the candy corn with poly stuffing and then close the opening by hand.
Step 6.
Brush on some glue and then sprinkle on coarse glitter and shake off excess.