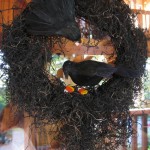 This Halloween wreath is so easy to make and looks great hung on your front door or entryway. I used a grapevine wreath, some crows, and moss and completed it in about an hour. I used some wooden candy corn to add some color but you can use your imagination and use whatever you want.
Materials:
grapevine wreath
moss
flat black spray paint
crows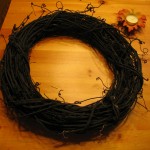 Step 1.
Spray paint wreath with flat black paint. I usually buy the Wal Mart brand that is 96 cents a can.
Step 2.
Glue moss onto wreath as shown.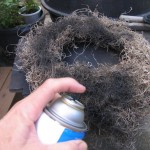 Step 3.
Spray paint moss with black paint.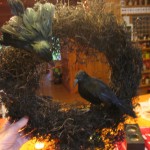 Step 4.
Add crows and secure with hot glue.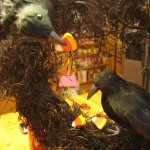 Step 5.
I glued a piece of wooden candy corn in the crows beak and added some to the "nest" area.  You could use spiders, mice, worms, or almost anything you have. Use your imagination!