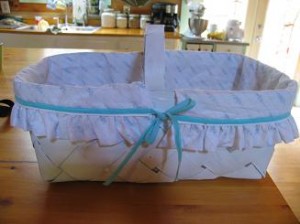 I always have sewing projects sitting around my house so I wanted a basket to keep them from cluttering up my living room. I saw these basket liners in a recent issue of Country Living magazine and decided to make one.  This is an easy way to dress up a plain basket and can be "dressed up"  in many different ways.  This was a really fun project and I plan to make several more.
Materials;
1 yard of lightweight cotton fabric
basket
2 yards of ribbon
pattern paper or tissue paper
Step 1.
Make a pattern by wrapping the outside of your basket as shown.  Allow a 2 inch overlap to allow for hems and two inches over the top to fold over and attach a ruffle.  To make a pattern for your bottom piece press the paper down and draw a line all the way around the bottom of the basket.  When you cut it out allow an extra 5/8 " all the way around for the seam allowance when you attach the bottom to the side pieces.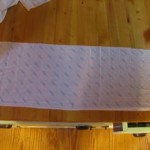 Step 2.
After you cut out your long side piece fold it in half and then cut it so that you have two shorter pieces instead of one long piece.  Cut out your bottom piece and then cut two pieces for a ruffle.  The ruffle will be made from two 4″ wide pieces that are the same length as your long side piece before you cut it. 
Step 3. 
Fold over all four edges of side pieces as shown and stitch.  Pin the two side pieces to the basket bottom , right sides together, as shown. 
Step 4.
Using a 5/8″ seam allowance stitch the sides to the bottom piece.
Step 5.
Fold your ruffle pieces in half putting wrong sides together.  Press. Using a basting stitch sew 5/8″ from edge to gather the fabric as shown.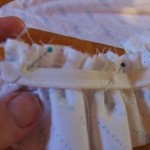 Step 6.
Pin piping to ruffle as shown.  Stitch as close to piping as you can.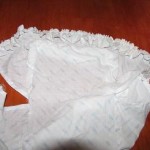 Step 7.
Pin ruffles to side pieces, right sides together, gathering to fit. Stitch and press.
Step 8.
Place ribbon along piping leaving enough at both ends to tie a bow. Stitch into place as shown.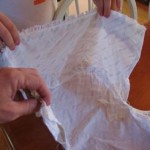 Basket lining should look like this when you're finished.
Place the basket liner into basket and tie into place as shown.