This is an easy project and is small enough to carry on a hike so that flowers can be put in the press immediately. 
Materials:
Balsa wood  (I purchased a pack of six at Wal Mart for less than two dollars.)
cardboard
four machine screws with nuts ( These can be purchased at any hardware store.)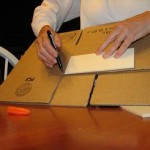 Step 1.
Cut out as many cardboard pieces as you want using the piece of balsa wood as a template.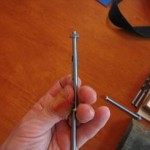 Step 2.
Choose a drill bit by holding the machine screw up to the drill bit and use one that is slightly bigger than your screw.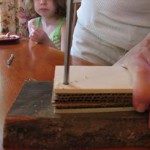 Step 3.
Drill a hole in all four corners through all the layers of cardboard and the backboard.
Step 4.
Stick the screws through the four holes and tighten with the nuts. When you're ready to put flowers in just loosen the nuts and place the flowers between the layers of cardboard.