This string of hearts is so easy to make and one your kids could help you with. They would love peeling the cardboard and painting the hearts because it doesn't need to be perfect. I like recycling cardboard because I like the look and the durability. I also like that it's free.
Materials:
cardboard
string or twine
paint
Step 1.
Cut out one heart from the paper pattern and then use the cardboard to trace the rest of the hearts and cut them out.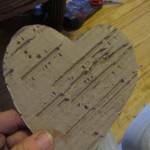 Step 2.
Peel some of the paper off the hearts but leave some on.
Step 3.
Paint the hearts. I don't completely coat them because I like the cardboard color showing through. Poke holes in both sides of the hearts and then string some twine through. I used strings that I pulled out of some burlap fabric instead of throwing them away. It's nice and strong but also soft.
Step 4.
Tie a loop on each end to hang and you are done.