I had a bunch of old bottles that I wanted to put labels on but wasn't sure if I wanted to use them for Halloween or to put the french labels on. Fortunately I discovered repositionable paper adhesive so I can take the labels off and put different ones on for different holidays. It is easy to find labels on the internet and many are free. I have a disk that I purchased that has a bunch of different labels but I also found some nice ones online that were free. If you don't have old bottles you can buy some nicely shaped bottles that are empty or look around the supermarket and see what you can find. I just love these for Valentines day!
Materials
printed or purchased labels
repositionable paper adhesive
old bottles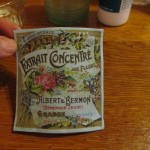 Step 1.
Print up labels that you want to use on cardstock paper. The size of your bottles will determine the size you will want to print up your labels.
Step 2.
Apply the adhesive to the back of the label and position it on the bottle. I use rubber bands to hold it in place. These will peel off easily after a few weeks.