This football garland is easy to sew and is great for Super Bowl parties. If you don't sew it could be put together with hot glue. You could personalize it by adding your team's logo in felt or even print it off on fabric paper. Use it for all your football parties!
Materials:
brown felt
string for stitching
polyfill stuffing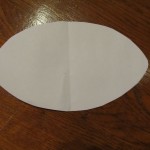 Step 1.
Cut out two football shapes for each football from the brown felt.
Step 2.
Put some string on a darning needle and tie a knot in the end. Make a line by pulling the string through to the front from the back. The knot will hold it in place from the back. Take the needle and push it through the other side making a line. Next you will bring the needle to the front from the back as shown in the third picture. Bring it over the top and through the other side to make a stitch. Repeat this all the way across. You could glue small pieces of felt for the stitching but I think it's a lot easier to do it this way.
Step 3.
Pin two pieces together and stitch around football leaving an opening in the bottom to stuff. Lightly stuff and then hand stitch or glue shut. You can also hot glue the pieces together instead of sewing.
Step 4.
I joined mine together by making X's but you could use buttons, large paper fasteners, or glue. To make X's thread the string through the darning needle and  follow the steps above.
Step 5.
I decided to hang mine with a plastic O ring but you can make a loop with the string or just tack it up or use a small nail.