I used to love going to tree farms to cut a tree and really miss doing that so I decided to recreate one as part of my decorations. This is really simple and you can personalize it by using stuff you have on hand. I bought the red truck at Hobby Lobby and use it year round by putting stuff in the trunk that fits the holiday or time of year.
Step 1.
The first thing I did was spray paint some small cans. Next I mixed up some plaster and poured it into the can and then stuck a dowel in the center and let it dry.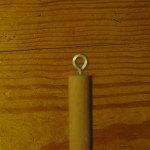 Step 2.
Put a small eyelet in the top of each pole. You will use this to attach your lights and candy canes.
Step 3.
I used a small piece of canvas to make my sign and a stencil to do the lettering. Fold over each end and glue or stitch. This forms a pocket to slide over the dowel.
I used small tags that I got at Walmart in the office supply section. I priced the trees according to size.
Step 5.
I used wire cutters to remove pieces from a floral pick to make wreaths. Twist the ends together and then finish it off with a bow. I added a small piece of wire to attach it to the fence.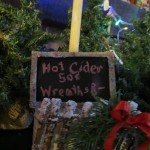 Step 6.

I added a chalkboard that I purchased at Hobby Lobby.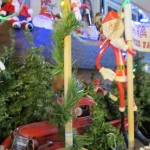 Step 7.
I wrapped garland (from the floral pick) around each pole. I am going to add snow to mine as soon as I get to town.