I really hate wrapping presents and sometimes it shows. I took a bit of teasing for my poorly wrapped presents at my granddaughters recent birthday party so decided I should put some effort into my Christmas wrapping. I went to the store but couldn't find any ribbon I really liked so decided to try making some from coordinating  wrapping paper and since it worked I decided to share how I did it.
Materials:
wrapping paper
glue
cardstock paper
Step 1.
Unroll a roll of wrapping paper to get the cardboard tube out of the middle. Roll it back up and cut pieces that are about 2.5 inches wide with a pair of heavy scissors. Fold under about a quarter inch along each edge as shown. It won't take long once you get started.  You can glue the edges down if you want (it will make it a little stronger and less likely to tear) but I did not and it worked out fine.
Step 2.
Wrap one piece around box and tape it in place on the bottom of package. Wrap  a second piece around and tape it on bottom.
Step 3.
To make bows make a circle as shown in first picture.  To make the bow start layering the circles as shown. Use a push pin to poke through all the layers and push a paper fastener through.
Step 4.
You can mix and match using the same steps as above.
Step 5.
Use two pieces that are slightly different sizes for this bow.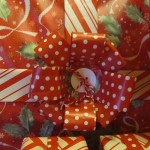 Step 6.
I cut out some circles and then punched two small holes in them to make them look like buttons. I poked holes through all the layers using a thick darning needle and then pulled the twine through using the needle and tied a bow.
Step 7.
I made some thinner bows by cutting some thinner pieces from the roll of paper. I folded the edges under the same as the wider ones and then formed a bow and attached it to the package using paper fasteners.