This Halloween tree has flying bats and is topped with a witch on a broom. This would make a great centerpiece or companion to the glittery garland project.  I used a Styrofoam cone and some of the extra vase filler from the garland I made. The bat and witch patterns are from Martha Stewart and she has many different patterns you can use if you want a different theme.
Materials:
Styrofoam cone
glitter ball vase filler
glue
florist wire
black paper for witch and bats
Step 1.
Using a sharp knife or razor blade cut the styrofoam balls in half.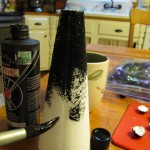 Step 2.
Paint the styrofoam cone black.
Step 3.
Start at the top and glue the glitter balls on the styrofoam cone. I used hot glue but you can use craft glue instead. Cover the entire cone.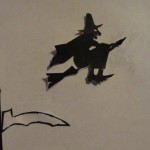 Step 4.
I got these templates out of a Martha Stewart magazine. You can go on her website and get almost any kind of pattern you can imagine. You will cut this bat on a fold and should cut out how ever many you want to put on your tree. You will need to cut out two of the witches.
Step 5.
Cut some short pieces of florist wire. Put some glue on one of the witch pieces. Place the piece of wire on top and then take the other witch piece and place it on top of the glued piece and the wire. Line up the edges and press together making sure the wire stays between the two pieces.
Step 6.
Put some glue in the center of the bat. Place the wire down the center and then squeeze the center of the bat over the wire and hold it or clamp it with a clothespin until it stays in place.
Step 7.
Poke the wire into the styrofoam tree as shown.