This glittery garland is really easy to make using a needle and some string. I added some glittery spiders and letters to spell out Halloween. This is a project your kids can help you with by handing you the beads so you can string them. The beads come in many different colors and are inexpensive.
Materials:
Package of foam beads from almost any craft store
strong thread or string and a sturdy needle
spiders and letters (I got the spiders at Wal Mart and the letters at Target)
Step 1.Start stringing beads by poking the needle and thread or string through the foam balls. Keep going  until you get to the center which you will determine by measuring where you want to string them up. 
Step 2.
Poke the needle through the letters (left to right) and then put a ball between each letter. Finish stringing the beads and secure the ends with a small o ring.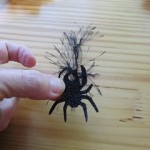 Step 3.
Punch a hole in the spider and then attach a piece of yarn that is long enough to allow the spider to hang down from the garland. Tie them to the garland.