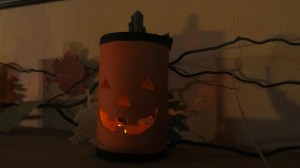 These little jack o lanterns are made from round salt containers!  They are very quick and easy and are lit up with battery operated tea lights that are set into the bottom.  Make a bunch and you'll have a really cute little pumpkin patch.
Materials:
round salt containers
orange and black craft paint
razor blade, small scissors, or carving tool
hot glue gun
green felt for stem and leaves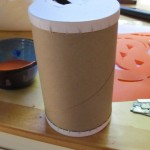 Step 1.
Empty the salt out of the container. (I put mine in plastic bags and put it in my food storage. The extra salt comes in handy to throw on icy steps in the winter.) Peel off the wrapper.
Step 2.
Use a stencil or draw your own face on salt container.  Using a razor blade, carving tool, or small pointed scissors, cut out your design. If you use a razor blade or carving tool be very, very, careful or you can end up with a bad cut.  I know this from experience….
Step 3.
Trace around a tea light and cut out the hole.
Step 4.
Cut out opening for tea light and then paint the top and bottom of lantern black.  After the paint dries set the tea light in using hot glue.
Step 5.
Cut some strips of felt about 2″ x 6″ and roll and glue as shown. Attach to top of lantern using hot glue.
Step 6.
Cut out some leaves from the green felt. I added stems to mine so I could wrap them around the big pumpkin stem.