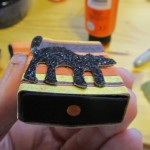 These little treat boxes are made from match boxes and scrapbook paper.  These are really fun and easy to make.
Materials:
mini matchboxes
scrapbook paper
brads (for drawer handle)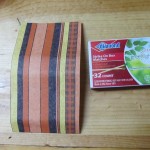 Step 1.
Cut a piece of paper that will fit around box and overlap just a little.
Step 2.
Coat the outside of the matchbox with glue. Wrap the paper around the matchbox as shown. Let dry.
Step 3.
Paint the "drawer" black and let it dry. Poke a hole in the end of the box using a push pin and push the brad through the hole. Spread the prongs to anchor the brad in place.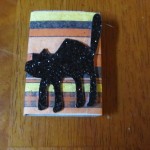 Step 4.
Glue something fun on the top and then fill it with candy.