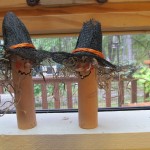 These little witches are made from short pieces of dowel and are easy to make with step by step instructions. I'm going to make some bigger ones for my front porch using some tree sections.
Materials:
large diameter dowels cut in short pieces
paint: beige, orange, black, white
moss
witch hat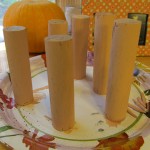 Step 1.
Cut dowel into short pieces and paint them.
Step 2.
To make the nose you will cut some short pieces from a wooden skewer and then carve them.  It's easier than you think using a pair of pliers to hold the dowel and a small kitchen knife if you don't have carving tools. The first step is to make a point on the end as shown in the second picture. The next step is to make a little bump by carving out a section as shown in the last picture.  Keep practicing until you get it right! If you don't want to carve it you can just use a piece of the skewer. Paint the nose and let it dry.
Step 3.
Drill a hole for the nose as shown. Put a dab of glue on the end of nose and stick it into the hole.
Step 4.
Paint on face as shown. After the mouth dries paint the tooth white.
Step 5.
Put a little bit of hot glue on the inside of hat. Press some moss inside being careful not to burn your fingers. Put some glue on top of dowel and then press the hat on top as shown.