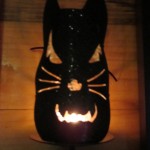 This black cat is cut from black glitter paper and is then tied around a jar to make a very quick and easy Halloween candle holder.
Materials:
1 sheet of black glitter paper (You can buy this at any store that sells scrapbook supplies.)
one jar
ribbon, string, or yarn
Step 1.
Copy this pattern and then glue it onto the back of a piece of black glitter scrapbook paper.  After it dries cut out the eyes, nose and mouth with a small pair of scissors. You will need to use a razor blade to cut out the whiskers.
Step 2.
Punch four small holes in cat as shown. Slip ribbon or string through holes and tie a knot in each one to secure. These will be used to tie the cat face onto the outside of a jar. Add a tea light candle and you have a quick and easy candle holder for Halloween.