This fleece scarf is very easy to make and would be a great gift. You can make a fleece scarf from a small remnant because fleece is 60 inches wide. I got all the fleece for this scarf from a remnant bin. The vintage postcards are made using fabric paper.
Materials:
10 – 12 inches of white fleece
small piece of pink or red fleece
1 sheet of fabric paper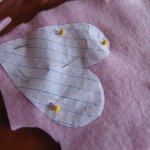 Step 1.
Cut out six hearts for each end and six more to sew on scarf.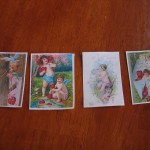 Step 2.
I have a cd of vintage post cards that I purchased online but I have also seen vintage postcards that you can print for free online. I printed these out on fabric paper in wallet size using the photo problem that came with my computer.
Step 3.
Pin three hearts across both ends of scarf. Turn it over and pin backs on all the hearts. Stitch around edges making sure to stitch through the front and back of the hearts.
Step 4.
Pin hearts onto scarf as shown. Slip the post cards that you printed on fabric paper inside some of the hearts and stitch around all edges.