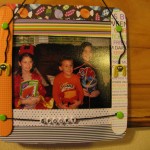 I made this picture frame from the large size craft sticks and scrapbook paper and then added some embellishments.  This is a project that would be fun to do with your kids and can be adapted to other holidays or occasions by simply changing the paper. It would be a great way to showcase a special picture on a scrapbook page since it's nearly flat.
Materials:
large craft sticks
coordinating sheets of scrapbook paper
alphabet beads
string
spider embellishments
four paper fasteners
glue
Step 1.
Cut strips of contrasting paper that are just slightly larger than the craft sticks. Paint the sticks with glue that has been thinned just slightly with water.  Lay the glued side of the stick down on the wrong side of the paper as shown in the picture.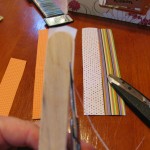 Step 2.
After the glue dries trim away the excess paper.
Step 3.
Lay the sticks on the picture the way you want them to fit.  Then put a dot of glue in each corner and then lay a stick across each end as shown.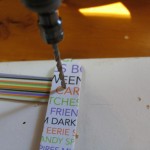 Step 4.
After frame has dried drill holes in all four corners.
Step 5.
Stick paper fasteners through all four holes and fold out prongs to secure.
Step 6.
Wrap black cord around paper fastener and leave a little hanging down on each side as shown.   Also leave enough at top to hang frame.  Attach spiders with a little glue.
Step 7.
String beads on the black cord and then tie each end off by wrapping it around the paper fastener and tie a knot. Put a dot of glue at the ends of the bottom stick and slip it in under the side pieces as shown.
Step 8.
Glue the last top stick into place as shown.