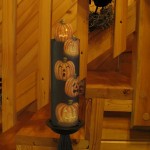 This candle cover is made from scrapbook paper and is a very quick and easy project.  It's a great way to cover up an old pillar candle but you must use battery operated tea lights with this.
Material:
one piece of scrapbook paper
one pillar candle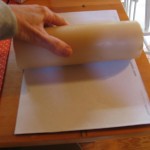 Step 1.
Measure the size you will need by placing your candle on the paper. I used a paper that had stacking jack o lanterns on it but there are many patterns to choose from.
Step 2.
Cut around the jack o lantern and cut out the eyes, nose, and mouth.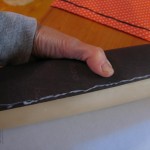 Step 3.
Wrap paper around candle and put a thin strip of glue along edge and then pull the other edge around on top of the glue.  Use a rubber band to secure it while it dries.