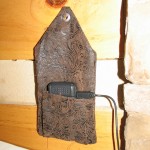 I had to find a way to secure my cell phone as it charges while keeping it out of the reach of my puppy so I made a pouch that hangs on the wall.  I hung it high enough that Sawyer cannot reach the cord or the phone.  Now if I could only find a way to keep him out of the other stuff he gets into…
Materials
small piece of fabric (1/4 yard should be enough)
small piece of heavy weight fusible interfacing
1 large eyelet
Step 1.
Make your pattern pieces using these dimensions or you can make it smaller or bigger to fit your phone.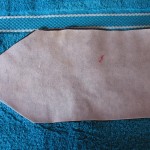 Step 2.
Cut a piece of stiff fusible interfacing to fit pattern piece.  Apply it to the inside of the back piece.
Step 3.
Hem top edge of pocket piece. Put pattern piece back on pocket and use pins to mark where your pleats are going to be.  Fold pleats as shown using pins as a guide and then pin them into place. Stitch them into place using a basting stitch. Remove pins.
Step 4.
Pin pocket to the front piece by placing the inside (wrong side) of pocket on the right side of the front piece. Now place the right side of the back piece on top of the front piece (right sides together) and pin into place.
Step 5.
Start at the bottom and stitch around the edge leaving an opening at the bottom to turn to the outside. I used a half inch seam allowance.
Step 6.
Turn to outside through opening on bottom. Hand stitch bottom closed.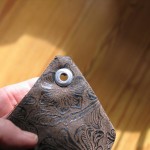 Step 7.
Apply eyelet as shown.