I made these fun napkin holders to use at each place for Christmas dinner.  If you don't sew you could make these with a hot glue gun.
Materials:
green felt fabric

red felt fabric
red ball fringe

red and white striped fabric for napkins
Step 1.
Cut out a front and back for each elf shoe. I made the front green and the back red.
Step 2.
Pin the front and back together.  Stitch 1/4 inch from edge all the way around, leaving it open at the top.
Step 3.
Put a line of hot glue across shoe as shown.  Put a piece of ball fringe on top of glue line.
Napkins
Step 1.
Cut squares of fabric in whatever side you want.
Step 2.
Fold the first corner to the inside (wrong side of fabric) as shown. Next fold over 1/4 inch and then fold over again so that the raw edges are tucked under. Begin stitching along edge.
Step 3.
When you come to the corner fold it over as shown and then turn under the next edge as shown. Repeat this all the way around until your entire napkin edge is hemmed.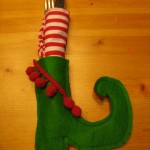 Step 4.
Roll the silverware tightly in the napkin and then stick it in the elf shoe.