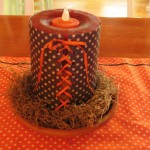 This polka dot candle cover is made with scrapbook paper and laced up with orange ribbon. I used a battery operated candle for this project but I also cover real candles in this way. However, when I do, I ALWAYS watch it  very carefully and NEVER, EVER, leave it unattended. (Both of my brothers were firefighters before they retired so I really got fire safety drilled into my head.) This is a really easy project and can be done in so many different ways. You can make one for birthdays, holidays, or special family occasions.

Materials:
1 sheet of scrapbook paper
ribbon
pillar candle
hole puncher
Step 1.
The easiest way to measure the paper for the candle is to lay the candle on the back side of the paper and start making little marks as you roll the candle along. Make sure you keep the bottom of the candle even with the bottom of the paper as you roll it along.  After you've made the marks all the way across the paper lay a ruler across the lines and mark your cutting line. Cut along the line and make sure you leave some extra paper on the ends so that you can fold it over to reinforce the ends. If the paper isn't wide enough you can  attach an extra piece of paper with glue.
Step 2.
Fold over the end of the paper and glue. This will make the holes a little stronger when you make them. If you need to make your paper bigger (to fit around candle) glue a folded over piece of paper to the end as shown above.  Make a line of holes using a hole puncher like I did in the pictures above.
Step 3.
I added some moss to the bottom of a clay saucer to use as a base for my candle.
Step 4.
Cut a piece of string and lace it through the holes starting at the bottom. Tie a bow at the top. Place it in the moss lined saucer.

I burn a pillar candle just long enough to make a perfect size impression for a tea light. That way I can just pop a tea light in the hole when I want to use the candle and it warms the candle enough to release the scent but preserves the candle for long time use. You can also use one of the battery tea lights instead of using a real candle.