I made these picture frames as take home gifts for all the ladies I've invited to my traditional "Old Hag" party. I took video of the entire party last year and (with my son's help) will be making it into a movie for this years party. Since we are going to watch the movie during the party I decided to make this years theme an Acadamy Award evening but will be presenting "Golden Crow Awards"  instead. The ladies will walk the black carpet and I will interview them as they arrive.  I have a lot planned and will share all of it in the coming weeks. I purchased these little frames in the wedding section of the dollar store and there were six in a pack for just a dollar. Then I covered them glitter and made the little witch boot to attach. This is a really easy project and makes a great memento for a halloween party.
Materials:
Small frames
glitter
glue

construction or scrapbook paper (for witch boot)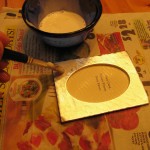 Step 1.
Mix a little bit of water into some white glue and then paint it on the front of your frame. Put on a nice thick coat.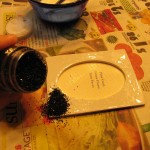 Step 2.
Sprinkle glitter on top of the glue.
Step 3.
Cut out a boot  or any shape you'd like to use from the paper. Cover it with glue and then sprinkle on a contrasting color glitter.
Step 4.
Glue the boot onto the bottom of the frame. Insert picture.