I was shopping recently and loved the decorative bathroom towels but the price was more than I'm willing to spend.  I headed over to the craft section of  Wal Mart and found some great ribbon to use as a border and then picked out inexpensive towels and made my own.  This is so easy to do that even a novice seamstress could do it.
Materials:
towels
two sizes of ribbon that contrast (The amount you need will depend on the size of your towels and how many you want to make.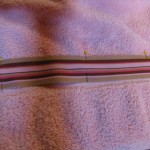 Step 1.
Pin the wide ribbon onto the border portion of the towel.
Step 2.
Stitch along upper edge of ribbon first.  This edge needs to be done slowly and carefully so it stays even as you sew.  Now stitch along the bottom edge of ribbon.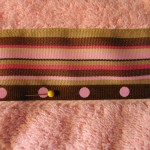 Step 3
Pin the bottom ribbon along the bottom edge of the wider ribbon. Overlap it slightly.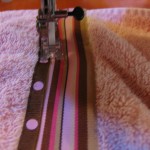 Step 4.
Stitch along edges of narrow ribbon.  I match up thread color using a color that matches the towel on the bobbin and a color that matches whichever ribbon I'm sewing on the top.  It's a hassle but it's worth the trouble because it gives it a finished look.