I made this crows nest from moss and a plastic flower pot.   I got a bunch of crows from the Dollar Store so this was really inexpensive. I am  using crows all over the house this year and am having a lot of fun with it.
Materials:
plastic flower pot
moss
crows (Mine are from the Dollar Store)
Step 1.
Take a big bunch of moss and press it down into the pot. Push it down in the center to make the shape of a nest.
Step 2.
I hot glued the first crow on the rim of the pot. I added a second crow to the top and then put one more at the base of the pot as shown.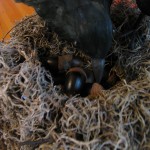 Step 3.
I found these great black acorns out in the woods by my house so I put them in the nest.