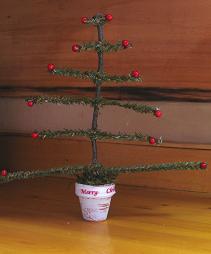 This mini tree is made from some pine pipe cleaners and a twig.  I glued it into a mini clay pot that is decorated with some holiday ribbon.
Materials:
pine greenery pipe cleaners which can be purchased in any hobby store.

small clay pot
twig
ribbon or any kind of trim
small piece of styrofoam or florist foam

red berries to glue on tips of tree
moss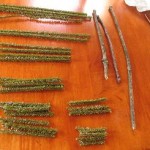 Step 1.
Cut pieces of pine pipe cleaner into different sized pieces as shown.
Step 2.
Find the center of the longest piece of pipe cleaner.  Apply a drop of hot glue and stick it on to your twig about two inches from the bottom.  After it dries, wrap the pipe cleaner around the twig crossing the two ends over each other to firmly attach it to the twig.
Step 3.
Repeat this step all the way to the top using shorter pieces as you go. Add a red berry to each tip using hot glue.

Step 4.
I painted my pot off white and then sanded it to make it look old.  Cut a piece of florist foam that fits snugly in bottom of pot.  Stick the twig into the foam and then add hot glue around it to make sure it stays in place. Add moss to top of foam.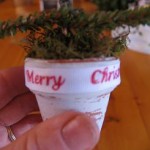 Step 5.
Add ribbon to top of pot.