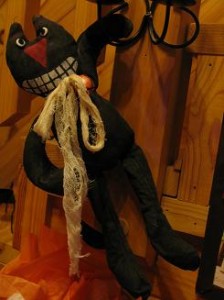 This is another vintage Halloween craft using a cat instead of a pumpkin.  This is easy to make and takes only a small amount of fabric.  You can accessorize it anyway you want and could even paint it to match your own cat.
Materials:
half yard of fabric for a small cat, 1 yard for a larger cat.
black, orange, and white craft paint
short piece of wire for tail

stuffing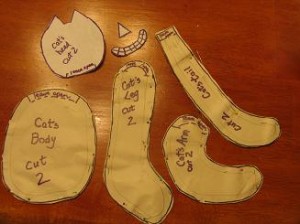 Step 1.
Cut out pattern pieces as shown above.  I used a canvas fabric that I painted black but you can use almost anything for this kind of project.  Cut two of each piece which goes faster if you just fold fabric in half. The mouth and nose you will just need to trace around when you paint the face.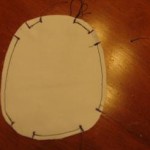 Step 2.
Take both pieces of fabric and place them right sides together.  Stitch them together taking in a 1/4 inch seam allowance as shown.  For the body you will leave openings as shown above.  For the arms, tail, and legs leave the top open and for the head just leave the bottom open for stuffing.
Step 3.
Turn head to outside and paint black. Let dry and then paint on mouth and nose as shown above. For eyes I used two sizes of buttons sewed on top of each other.
Step 4.
Turn body to outside with openings for legs, arms, and head.
Step 5.
Stitch around legs, arms, and the tail as pictured above.  Turn all pieces to outside and stuff
Step 6.
Attach arms and legs to body as shown.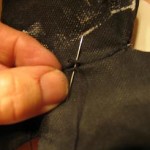 Step 7.
Paint body black (if you used canvas) and then attach head to body as shown.
Step 8.
Insert wire inside tail and make a loop with the wire at the top just inside the tail.  Use the loop to help anchor tail to body.  Attach it to cat body as shown.
I tied a piece of gauze fabric around the neck and added a bell but you can really use your imagination and add almost anything.