These are another take on the stockings I did in a previous project. I added alphabet tags to spell out my grandogs names but you could make these for kids too. I made similar ones to give as treat bags for my Old Hag Party. They are very quick and easy to make.
Materials:
1/2 yard fabric
1/2 yard of sheer fabric to make ruffle for top of stocking
alphabet tags (these can be purchased at Hobby Lobby.)
polyester stuffing
Step 1.
Cut out two pieces for each stocking. Put the two pieces together (right sides together) and stitch using a 1/4″ seam allowance leaving open at the top.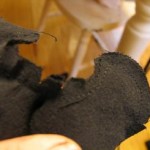 Step 2.
Clip just to seam line around the pointed toe and at the heel. This will help the stocking lay flat when you turn it to outside.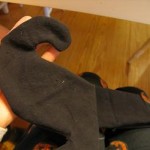 Step 3.
Turn to outside and press.
Step 4.
Hem top of stocking as shown.
Step 5.
Cut a fabric strip that is 2 1/2 times the length of the circumference of the stocking top and 3″ wide. Stitch 5/8″ from the edge and again 1/2″ from the edge using your widest basting stitch. Pull one thread on each row to gather into a ruffle.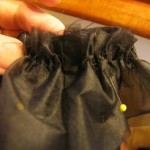 Step 6.
Pin ruffle to top of stocking and stitch into place.
Step 7.
Hand sew alphabet tags on stocking as shown.
Step 8.
Fill stocking with polyester filling.