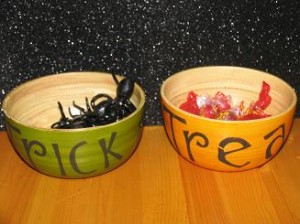 I found these wooden bowls at Target on a clearance aisle and they were green and orange so I didn't even have to paint them and they were priced at just over a dollar apiece. All I had to do is stencil them and add candy and rubber spiders.
Materials:
alphabet stencil or trick or treat stencil which I found at Hobby Lobby.
two wooden bowls
black paint and stencil brush
rubber bugs or spider and candy for treat dish
Step 1.
Tape your stencil onto the bowl and using a stencil brush dab the paint on the bowl. Be sure to dab off most of the paint from your brush before you start stenciling or it will smear. Repeat this step with the other bowl putting "trick" on one bowl and "treat" on the other.
Add candy to treat bowl and bugs, spiders, or mice to the other.