This is a great way to salvage an old candle or to use a good one that is just the wrong color.  Because it's made with scrapbook paper you can use this same idea for any holiday or for a  birthday party etc…  Just remember, NEVER leave a candle burning when you leave or when you go to bed. In order to make pillar candles last longer I burn them just long enough to make a hole in the middle that is the size of a tea light. Then every time you want to light it you can just stick a new tea light in the hole.  The heat from the tea light will release the scent of your pillar candle and it will burn out in a couple of hours.
Materials:
One piece of scrapbook paper
a yard of ribbon
glue

a pillar candle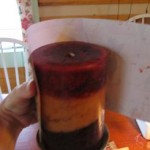 Step 1.
Wrap the piece of scrapbook paper around the candle and draw a line on the part that overhangs so you can cut it off even with the top.  You will need to measure enough paper to go all the way around the candle plus about a half inch for overlap when you glue it together.
Step 2.
Cut a piece of ribbon for the top and bottom.  Glue it on as shown.  On one side don't bring the ribbon all the way to the end because this is where you will overlap the paper and glue it together.  Wrap the paper around the candle and make sure it fits just tight enough that you can remove it later if you want to change the cover. Apply a thin strip of glue to the overlap part of the paper and then wrap some rubber bands around the whole thing while it dries.