I bought this ugly mirror at a yard sale and with the cost of a can of primer and a can of spray enamel I was able to transform it.  It only took about an hour and made a nice addition to my craft room.  I thought about making it into a bulletin board but because the room only has one window I decided the mirror would help bring more light in.  
Materials:
1 can of primer spray paint
1 can of enamel spray paint
1 mirror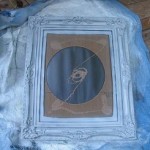 Step 1.
Spray mirror with primer and allow it to dry well.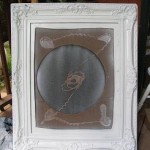 Step 2.
Spray on color you have chosen and allow it to dry well before handling it.  I usually apply a second coat after the first coat has dried.  For a shabby chic look you will probably want to use a flat paint.
To make a bulletin board or chalkboard just insert corkboard or thin chalkboard instead of the mirror.  You can purchase corkboard or chalkboard at Lowes or Home Depot.