This is a very quick and easy project for St Patrick's day fun. I bought 2 packs of coins and strung them together with split rings. This is a decoration that could be used outside.
Materials:
St Patricks day lucky coins. (I used two packages for this garland)
package of 12mm (.47 inch) split rings. I used gold.
drill to make holes in coins.
Step 1.
Drill holes in the coin as shown above.  Join them together using the split rings. I pushed the split ring onto the first coin and then pushed the next one on as the first coin held the split open. Then I worked them both onto the ring at the same time. It went really fast this way.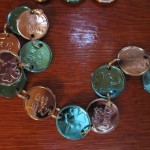 Step 2.
Continue on until your garland is the length you want.