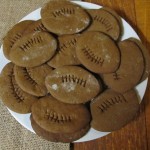 These football shaped ginger cookies are so good and spicy. I found the recipe years ago in an old cookbook but have changed it over the years until the final one I use now.I make a mix of the dry ingredients to keep on hand and then you just have to add some of the mix and a few other ingredients to make them quick and easy.  Turning them into football cookies only takes a couple minutes.
Recipe:
Ginger Cookie Mix
Combine:
8 cups flour                   4 tsp ginger
2 tsp salt                        4 tsp cloves
2 tsp baking soda         6 tsp cinnamon
4 tsp baking powder    2 tsp nutmeg
2 cups sugar
You can store this in a plastic ziplock bag or jar to use as a mix.
To make cookies use
2 1/2 cups of the mix, 1 egg, 1/2 cup of shortening, and 1/2 cup of molasses. Mix well and chill before rolling out.
Bake at 350 for 8 to 10 minutes.
Step 1.
To make the football shape I took a round cookie cutter and flattened it out a little until it looked like a football. To make the laces you will use a spoon and a fork with the prongs bent a little as shown above.
Step 2.
Use the edge of the spoon to make a curved line and then use the fork to make the laces. These cookies don't need any frosting!