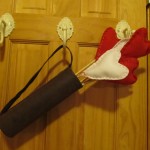 I've been wanting to make one of these ever since I saw the first Hunger Game movie. This one is made from a Pringles can that is covered with faux leather. This is really easy to make and the whole thing can be done with hot glue if you don't sew.
Materials:
1/4 yard of faux leather fabric
pringles can
red and white felt squares
dowels
hot glue gun
small amount of polyfill stuffing
Step 1.
Cut out the hearts from the red and white felt or any color you want to use. I hand stitched mine but you can use hot glue instead. Leave an opening at the bottom so you can stuff them and poke the dowel inside.
Step 2.
Stuff the hearts with the polyfill stuffing and then poke the dowel inside pushing it all the way to the top. Try to work it inside the stuffing so it is surrounded by it and it doesn't all get pushed up to the top. Stitch it in to place or use the hot glue to secure it.
Step 3.
Cut a piece of faux leather that fits around the Pringles can with a little bit of overlap. I attached it by running a strip of hot glue in a line from the top to bottom of can. I attached one end of the fabric to the strip of glue and then pulled it around the can so that it was snug and then ran another strip of glue along the edge of the fabric that was already attached and then brought the other edge of fabric onto the strip of glue. Trim the bottom if necessary. I had an old leather strap so I decided to use that but you can just cut a strip of your fabric and fold it over ( to make it stronger ) and hot glue it. Attach the strap to the bottom of the can. Attach the other end of the strap to the inside of the can as shown.
Step 4.
Trace around the bottom of the can and then use your pattern to cut a circle from the faux leather.
Step 5.
Use the hot glue to attach your circle of fabric to the bottom of the can covering the strap. Cut a piece of fabric that will go all the way around the top of the can. Run a strip of hot glue around a section of the top of the can and attach the strip as shown. Work your way around until it's attached. Now fold it over and attach it to the inside using the hot glue.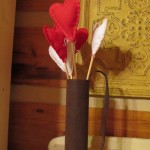 Step 6.
Add arrows and it's done!