This runner is made from felt and fastened together with scrapbook paper fasteners. This is easy to make and can be taken apart for easy storage.
Materials:
felt squares in different colors
stiff fusible interfacing
scrap book paper fasteners
Step 1.
Cut out snowflakes from different color felt squares and stiff fusible interfacing.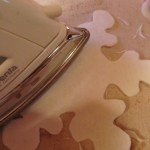 Step 2.
Using a hot iron fuse the interfacing to each felt snowflake following instructions that come with the interfacing.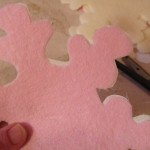 Step 3.
Trim away excess interfacing as shown.
Step 4.
Punch holes in snowflakes as shown using a pair of eyelet setters. Push a paper fastener through each one to join snowflakes together.