I made these strings of hearts using o rings (in the jewelry section of craft stores) and the glittery hearts were from Wal Mart and only cost .97 cents a package. I only needed two packs to make mine and it is at least a couple of yards long. The hearts were in the Valentine's Day section but they have things like this at most craft stores too.
Materials:
o rings (Get the kind that can be pulled open and then closed. The slip in kind won't work for this.)
hearts (I have seen lots of different hearts sold as table scatter or scrapbooking supplies)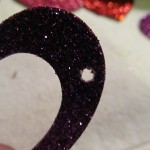 Step 1.
Punch a hole in each side of the hearts. I used an eyelet punch but any small punch will work. You can use an ice pick if you don't have one.
Step 2.
Slip the o ring into the first hole. Connect the next heart by slipping the o ring into that hole. I used the kind that you just spread open and then squeeze shut. It's a lot easier than trying to feed them through the other kind.  Repeat this step until your string of hearts is long enough.