My brother and his wife came up with this idea for hanging heavy garlands and other decorations in drywall.  I really like this idea because when you're not using it to hang stuff you can just unscrew the hook and the anchor is almost invisible.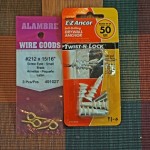 Step 1.
Purchase a pack of drywall anchors and hooks.

Step 2.
Make a hole in the wall using a punch or a drill.
Step 3.
Push anchor into hole and then use a screwdriver to screw it in flush to the wall as shown.
Step 4.
Paint the anchor to match your wall or ceiling. The hook will screw into the anchor as shown in the picture.