This fabric garland is made with coordinating fabrics and cotton quilt batting. I did a running stitch by hand around each pumpkin and then tied them together with embroidery thread.  This is a really easy project even if you don't know how to sew and will last for many years.
Materials:
small pieces of coordinating fabrics
cotton quilt batting
embroidery thread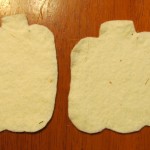 Step 1.
Cut out pumpkin shapes from each of the fabrics you have chosen.
Step 2.
Cut out pumpkins from the cotton batting that are slightly larger than the fabric pumpkins as shown.
Step 3.
Take two strands of embroidery floss and sew around the edges of the pumpkins using a running stitch as shown.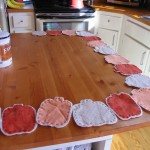 Step 4.
Lay out the pumpkins in the order you want them.
Step 5.
Run the needle through the edges of pumpkins as shown and then tie bows to hold them together.