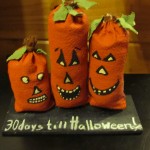 This little group of pumpkins are made from lightweight canvas fabric and their vintage faces are painted on in easy steps. I painted a piece of thin wood with chalkboard paint and attached the pumpkins with hot glue.
Materials:
small piece of lightweight canvas fabric
orange and green paint
green embroidery thread and needle
glue gun
one small piece of wood (I bought a pack of four at Hobby Lobby)
Step 1.
Cut out three pumpkins in different sizes. You can make them any shape you like but make sure they will fit on your board.  Cut out a front and back piece for each pumpkin.  Put them together  (right sides together) and stitch along edge using a 1/4 inch seam allowance.  Leave an opening at the top. 
Step 2.
Turn to outside through the opening at the top. Paint the pumpkins. Let them dry and then stuff with poly fill. Take a needle and some strong thread like buttonhole thread and do a running stitch all around the top as shown. Pull it tight and tie a knot and then wrap the cord around the top as shown in the third picture and then tie more knots to keep it in place
Step 3.
Paint the stems brown.
Step 4.
Draw the faces on with a felt pen. There are lots of pumpkin faces online if you don't like vintage pumpkins. Then add in the white with a fine brush and white paint. Then fill in the black with a fine brush and black paint.
Step 5.
Cut out leaves and paint. Let dry.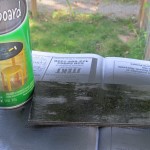 Step 6.
Spray paint a thin piece of wood with chalkboard paint. Let it dry.
Step 7.
Attach pumpkins to base one at a time using hot glue.
Step 8.
You will use embroidery floss to attach leaves as shown. Tie a knot in the end of thread for the first leaf and then stick the needle through the stem and then attach the second leaf. Repeat this on all three pumpkins.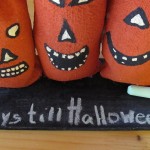 Use the stand to write any message that you want. I use mine as a countdown to Halloween.