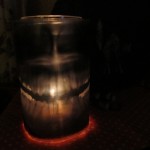 This project can be finished in 5 minutes and is one that always draws comments!
Materials
glass jar (pint size mason jars work great for a dental Xray)
one X ray or part of an Xray ( My oral surgeon gave me this one from my file at no charge but sometimes you might have to pay a little for a copy but I think it would be worth it!)
Cut the X ray to fit the jar. Wrap it around and tape it together on the back. Then just light the candle and you have an instant and very funny candle holder!