This is a quick and easy decoration you can do in minutes.  I used some old blue mason jars but regular ones will look good too, especially with colored lights.  Anyone could make this project!
Materials:
artificial snow
mason jars
Christmas picks (these can be purchased at Hobby Lobby or JoAnns)
string of lights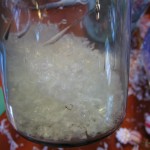 Step 1.
Put some artificial snow in the bottom of the mason jar.
Step 2.
Add a piece of greenery after the snow. Cut apart the Christmas picks and start adding pieces to the jar until you like what you see!