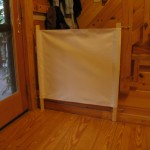 I needed a gate that will keep my daredevil grandson off of my steep staircase when he visits but wanted one that can be put away when he's not here.   I came up with this idea and have successfully tested it out on my dog.  Sawyer seems to be able to get himself in and out of anywhere he wants to be and so far this gate has been Sawyer proof. We'll see how Charlie does with it next time he comes over….
Materials:
Approximately 1 yard of heavy canvas, depending on area you need to cover.

furring strips (you can buy these at any lumber yard)
4 latches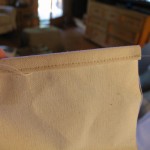 Step 1.
Cut a panel that is wide enough to fit your opening plus 3  1/2 inches on each side to allow for the pockets you will need to slip your wood slats in.  The opening on my stairs is 34 inches so I cut my fabric 41 inches to allow for the fold over for the pocket and for the narrow hem.  You can adjust this a little by where you place your eye bolt so you don't have to get it perfect.  After you cut your fabric narrow hem all four edges.
Step 2.
Fold over 2  3/4 inches and stitch. This will form the pocket that will hold the furring strip.
Step 3.
Cut two furring strips that are longer than the pockets in your canvas gate.  Attach a hook to the top  of both wood pieces as shown.  Slip them into the pockets and then attach hooks the bottom of both wood pieces.  Attach corresponding eye bolts to wall and post or to wherever you are putting up gate.  When you're not using gate you can roll it up and put it away.