My back door is metal and I don't like it because it's hard to hang curtain rods. The magnetic ones that are inexpensive look cheap and the ones that look good are expensive.  I came up with this idea that only cost about four dollars and took less than an hour including dry time for the glue.
Materials:
Round magnets (I got mine at Hobby Lobby but you can get them almost anywhere)
scrapbook paper
glue
Step 1.
Glue magnet to the wrong side of scrapbook paper.  I just used Elmer's glue.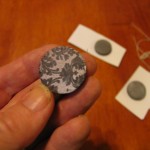 Step 2.
After the glue has dried cut around the magnet.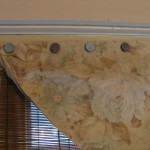 Step 3.
Use the magnets to hold up your curtain.  I used these to hold up a valance and it works very well even with the door opening and closing all day long.  Be sure to buy the thicker magnets and not the real thin ones.
This valance is very quick and easy to make and only takes a yard of fabric for a set of two.

Materials:
approximately 1 yard of fabric

approximately 1 yard of fabric for lining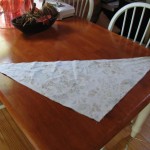 Step 1.
Cut a square of fabric that when cut in half will fit your window.  Cut it in half to form a triangle.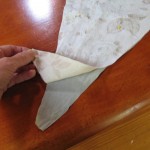 Step 2.
Pin together (right sides together) and then stitch leaving an opening at the top so that you can turn it to the right side.
Step 3.
After turning to right side press with hot iron and then top stitch close to edge. Stitch over the opening at the top that you left open.
Step 4.
I tied a knot on the end of my curtains and then hung them.