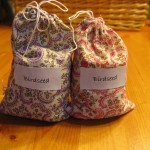 I made these little fabric bird seed bags for my daughters upcoming country wedding.  I'm going to put them in a basket and have the little girls hand them out at the reception.  They were so easy to make and cost almost nothing.
Materials:
a yard of fabric will make about 80.
fusible hem tape

string
fabric paper (can be purchased at any craft store.)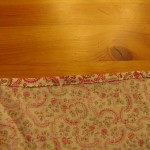 Step 1.
Cut out fabric pieces. I made mine about 7″ x  6″.  Hem the top edge of each piece.
Step 2.
Fold in half and then stitch around the bottom and side as shown.  Turn to right side and press.
Step 3.
Make the birdseed labels by typing it in "Word" or whatever program you use, and then print it on fabric paper. Cut out the size you want and then cut out strips of fusible hem tape to fit the fabric label. Position it on bag and press.
Step 4.
Tie string to a small safety pin.  Stick the pin into the small casing you made at the top in step 1.   Push it through the entire casing until it comes out the other end.
Step 5.
Fill the bag with bird seed.  Pull the string tightly and tie a bow.