My sister and I made these signs using poster board, ribbon, and some letters I purchased at Big Lots, in the scrapbook section. These are really easy and inexpensive to make.
Materials:
poster board
chipboard letters  ( I got mine at Big Lots but you can purchase them at any craft store.)
ribbon
glue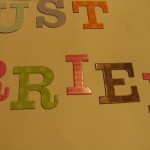 Step 1.
Glue letters onto poster board.
Step 2.
Punch holes along bottom and tie ribbons of varying lengths through holes as shown. We tied ribbon to each end of the long sign so that we could tie it around the trees.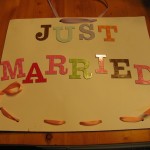 My sister made some signs with other designs by changing the hole positions and threading the ribbon as shown.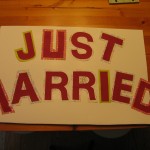 I wanted to make a just married sign for the car with letters that were big enough to be seen from a distance so I made this sign.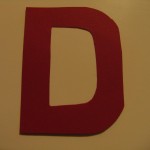 Step 1.
Cut out letters from scrapbook paper.
Step 2.
Cut out letters that are just slightly bigger than your solid color letters using a contrasting paper.  Glue the smaller letters onto the bigger letters as shown.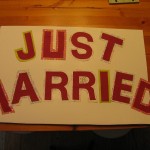 Step 3.
Glue the letters onto the poster board.