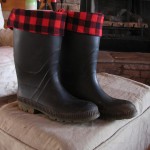 I have to wear these rubber boots a lot when I'm working at our property and the top always rubs my skin even with socks on. I made these slip on boot toppers by slipping some memory  foam into a pocket on the inside of the boot topper.  I used them a couple days ago while I was digging a pond by our spring and it worked perfectly. No more blisters!  You can make several and slip the piece of foam out to use in all of them.
Materials:
small piece of fabric
a piece of foam (I used the memory foam from the bottom of a pair of worn out slippers)
velcro
Step 1.
Cut a piece of fabric that is eight inches wide and measures 3 to 4 inches wider than the circumference of the top of your boot.
Step 2.
Narrow hem the top as shown.
Step 3.
Measure 3 inches and fold over, right sides together, as shown.  Before you stitch it down you need to sew a piece of velcro on the edge as shown.  Narrow hem both sides and then fold the top over and stitch along edge.
Step 4.
Sew the other piece of velcro on the other end as shown.
Step 5.
Cut a piece of foam that will fit inside the pocket.
Step 6.
Turn to outside as shown and then slip over the top of your boot.