This little garland is fun to make and you only need a little bit of poster board and some glitter. I hung them in the window so they can catch the sunlight but they'd be great on the tree or paired with a garland.
Materials:
white poster board
glitter, white, orange and black.
glue
yarn or string to hang snowmen
Step 1.
Cut circles from poster board. Paint with glue and then sprinkle with glitter. Let it dry completely.

Step 2.
Make dots of glue to form face. Sprinkle on black glitter and then shake of excess.Let it dry very well.

Step 3.
Make nose by painting shape with glue and then sprinkling on orange glitter.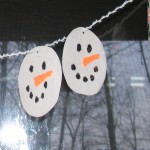 Step 4.
Punch a hole in the top of each snowman and run the yarn or cord through to hang.